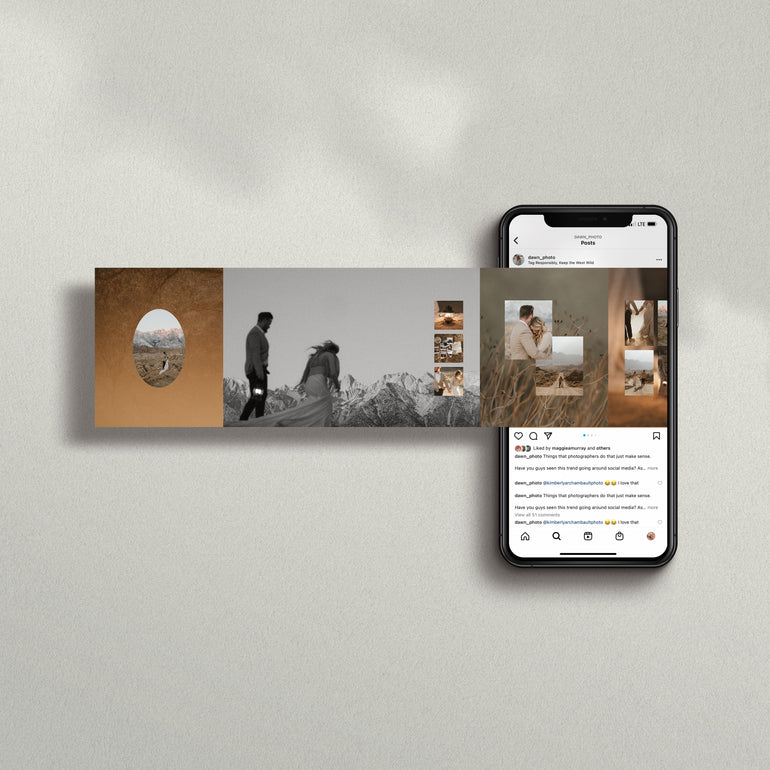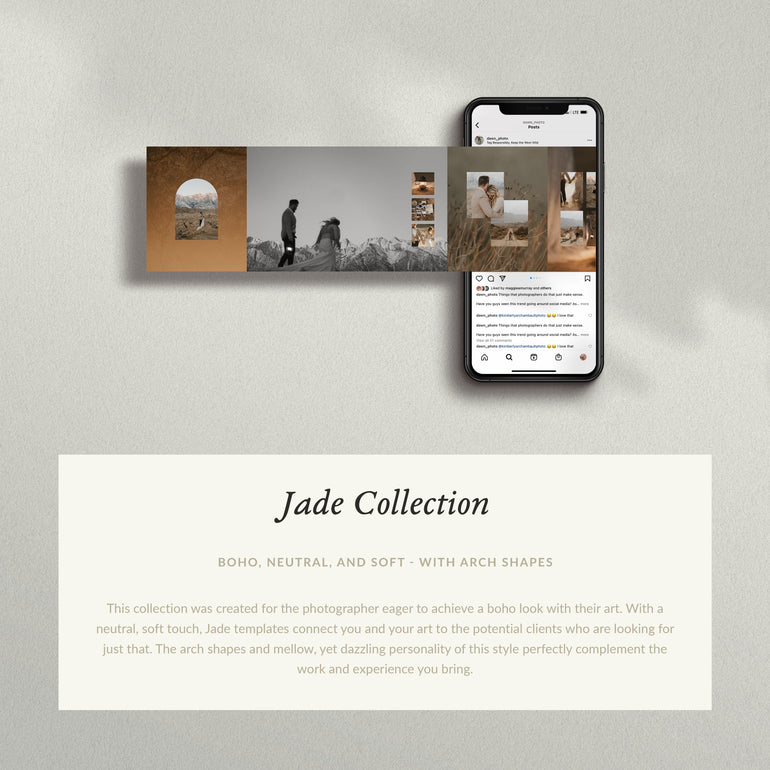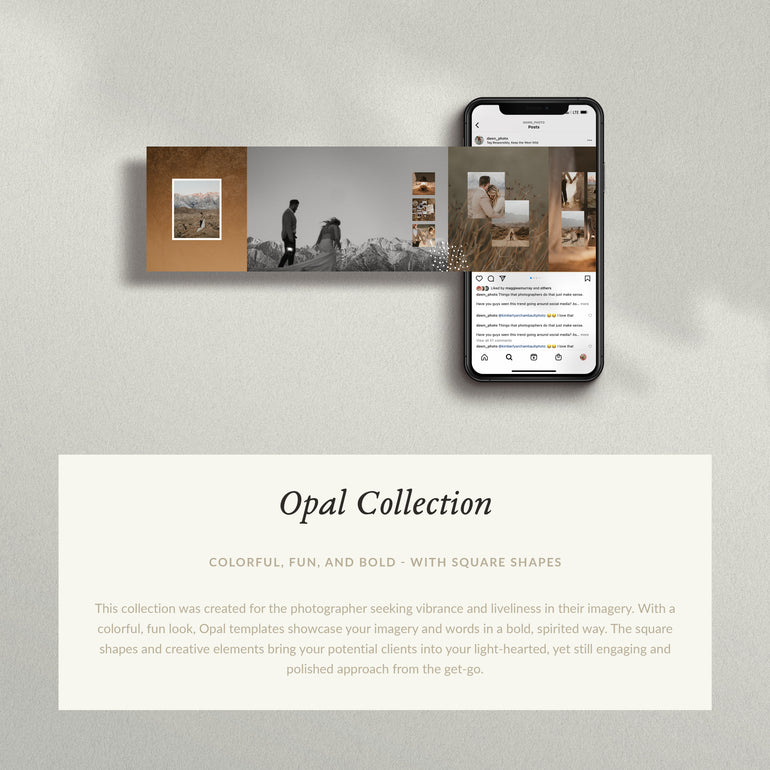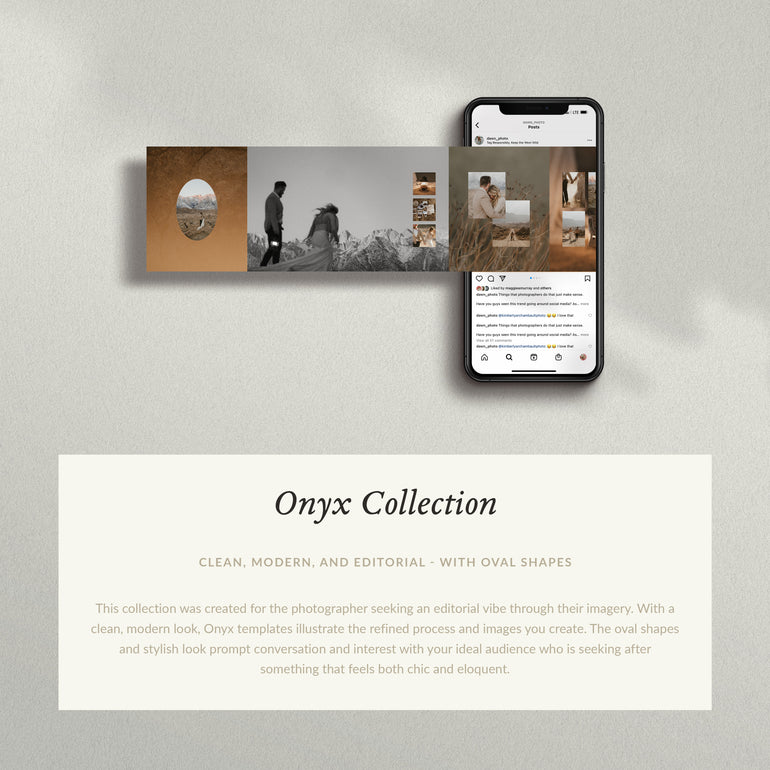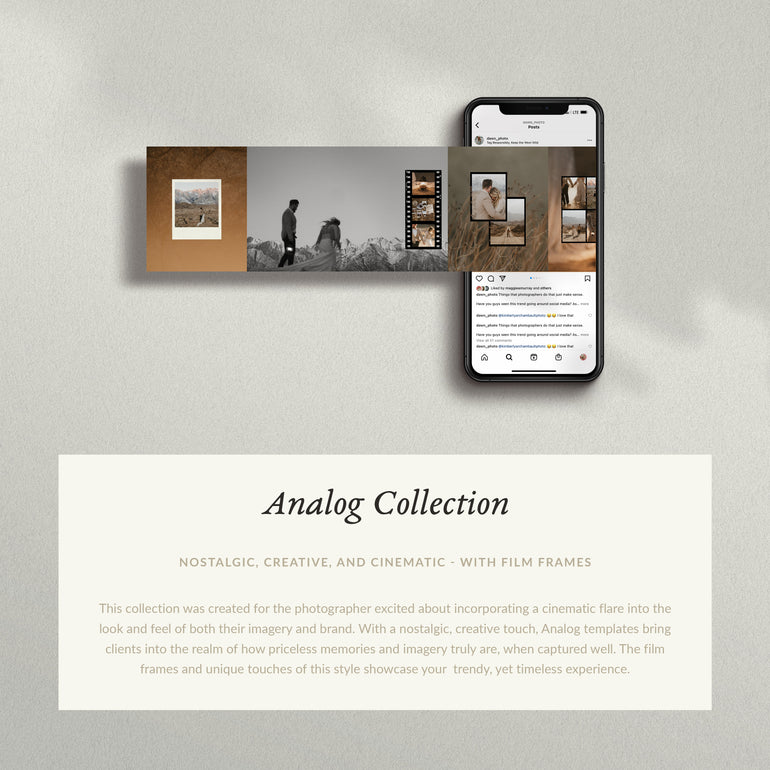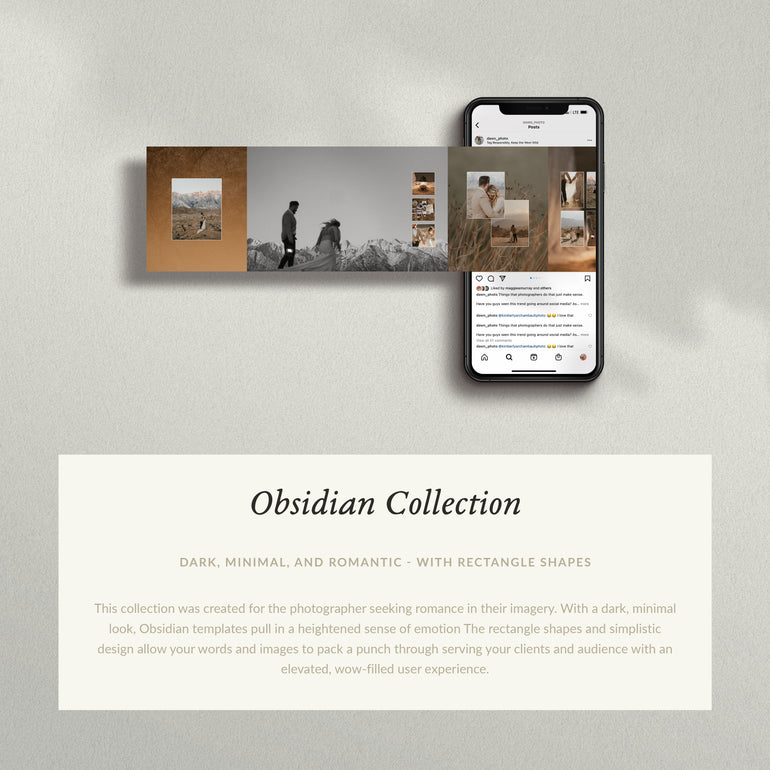 Instagram Carousel: Canva Templates
Description

Jade

Opal

Onyx

Analog

Obsidian
Ever wonder how people on Instagram have seamless, stunning carousels to showcase more than 10 photos? Here's your perfect solution. These best-selling templates include 20 five-slide groupings that can be used alone
 (a shorter carousel length – great for when you only want to quickly post session sneaks, etc.), or mix and match to curate full ten-slide carousels, totaling 190 different carousel combinations to ensure your feed is always looking fresh. Each template purchase includes the classic design (no added elements), in addition to the collection "style" of your choosing (to give you some extra spice and fun variation). The templates come in 1x1 (square) as well as 4x5 (portrait) layouts. To choose the style that suits you best (Jade, Opal, Onyx, Obsidian, or Analog), look at the product photos to see the carousel variations!
This collection was created for the photographer eager to achieve a boho look with their art. With a neutral, soft touch, Jade templates connect you and your art to the potential clients who are looking for just that. The arch shapes and mellow, yet dazzling personality of this style perfectly complement the work and experience you bring.
This collection was created for the photographer seeking vibrance and livliness in their imagery. With a colorful, fun look, Opal templates showcase your imagery and words in a bold, spirited way. The square shapes and creative elements bring your potential clients into your light-hearted, yet still engaging and polished approach from the get-go.
This collection was created for the photographer seeking an editorial vibe through their imagery. With a clean, modern look, Onyx templates illustrate the refined process and images you create. The oval shapes and stylish look prompt conversation and interest with your ideal audience who is seeking after something that feels both chic and eloquent.
This collection was created for the photographer excited about incorporating a cinematic flare into the look and feel of both their imagery and brand. With a nostalgic, creative touch, Analog templates bring clients into the realm of how priceless memories and imagery truly are, when captured well. The film frames and unique touches of this style showcase your  trendy, yet timeless experience.
This collection was created for the photographer seeking romance in their imagery. With a dark, minimal look, Obsidian templates pull in a heightened sense of emotion The rectangle shapes and simplistic design allow your words and images to pack a punch through serving your clients and audience with an elevated, wow-filled user experience.
---
Fully Customizable Canva Templates
Level Up Client Experience
Create Storytelling Content
Instagram Carousel: Canva Templates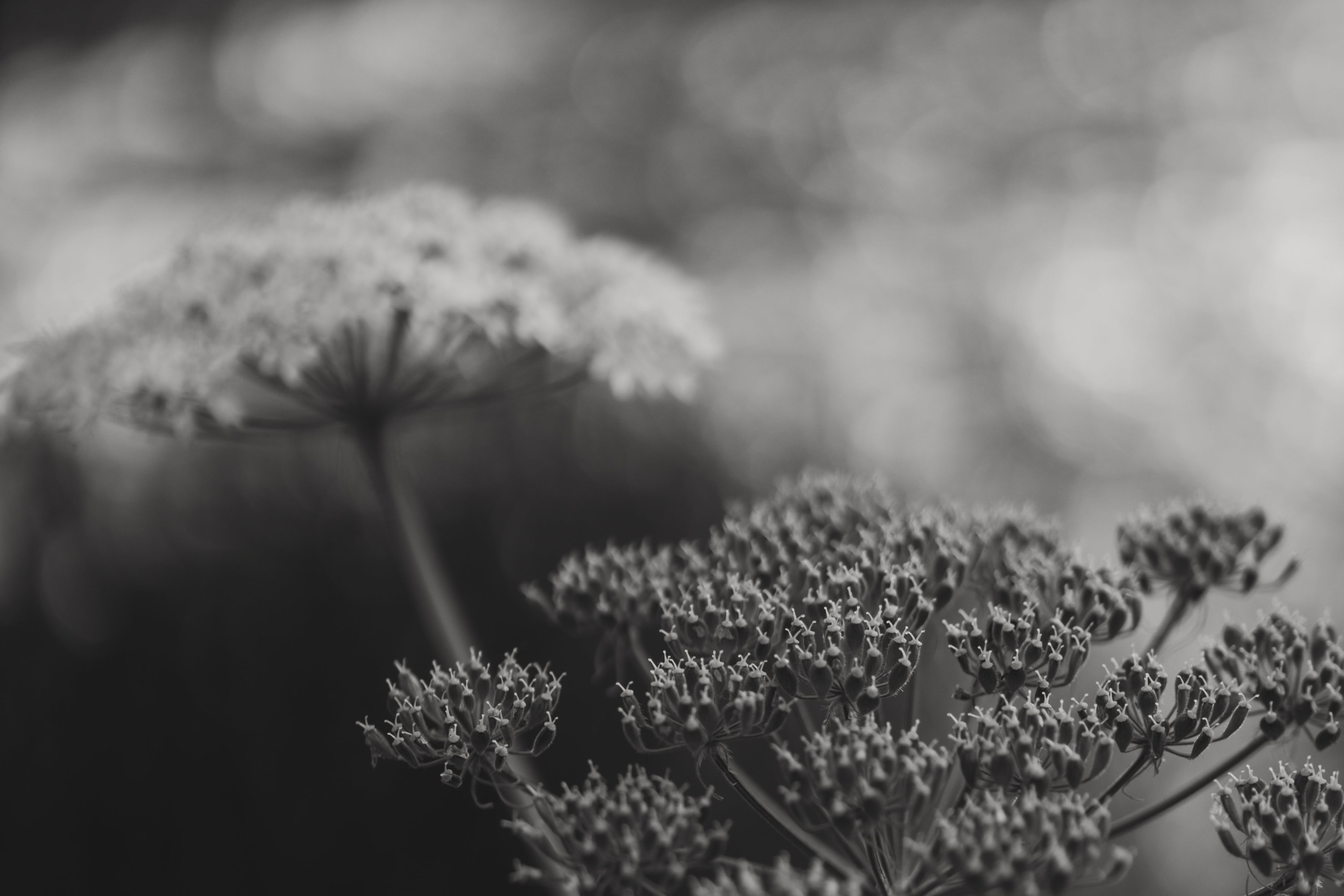 FAQ
What software do I need to utilize these?
You will need to have a Canva account in order to easily download and customize the templates!
Can I customize these?
Yes! You can go beyond choosing your preferred style (Opal, Onyx, Obsidian, Analog, and Jade) and FULLY customize the guides and other resources to fit your brand aesthetic and voice to a T.
How do I know which "style" to pick?
Here's a quick vibe-check of each style you can choose from:
Obsidian: dark, minimal, and romantic - with rectangle shapes
Opal: colorful, fun, and bold - with square shapes
Onyx: clean, modern, and editorial - with oval shapes
Analog: nostalgic, creative, and cinematic - with film frames
Jade: boho, neutral, and soft - with arch shapes
You can also compare all the styles here to see which one is a fit for your brand aesthetic!
Do you accept refunds?
Refunds are not accepted because all of the guides and other resources are digital products for which access cannot be revoked. If you are not happy with your product, email me!
So grateful for these templates that minimized the decision making, allowed me to quickly input photos and information and are gorgeous for my clients.  Love love love."
Laurken Kendall
They are extremely easy to use and easy to make your own. In my business, client guides are something I've always wanted to create but I've always been pretty intimidated by the time it would take to really get these where I would want to be. With Dawn & Maggie's guide templates, I was able to make multiple guides in no time at all. 
Jordan Voth
The 'How to Write Your Copy' pdf is jam packed with everything you need to write your copy including timeline examples, checklists, tips, and soooo much more!! These guides will totally transform your business & client experience!!!!"
Harriet Thompson
About the Makers: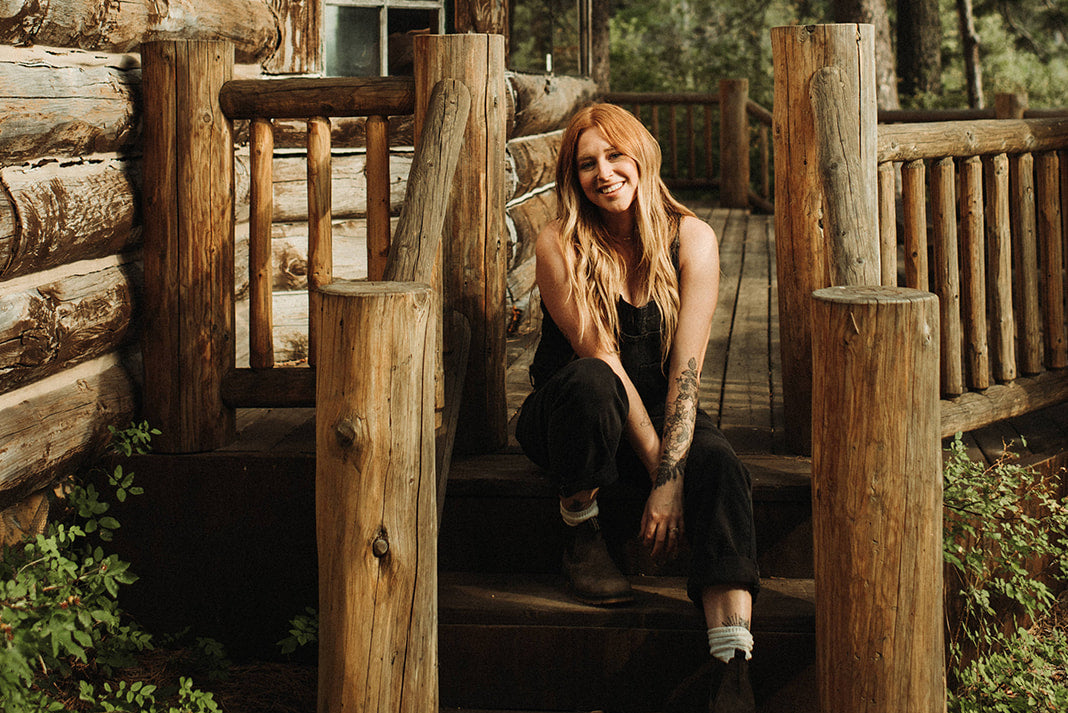 About Dawn
The photography industry has been my calling and greatest passion the past 13 years, along with being a wife and mama to my boys. After shooting hundreds of elopements and couples sessions, the transition to helping other photographers elevate their businesses and their art, felt natural.
Maggie and I have teamed up to create these beautiful guide templates for ya'll! With my knowledge of photography and the client experience side of things, and Maggie's knowledge of graphic design, these products are the perfect combination of gorgeous design to achieve top tier client experience.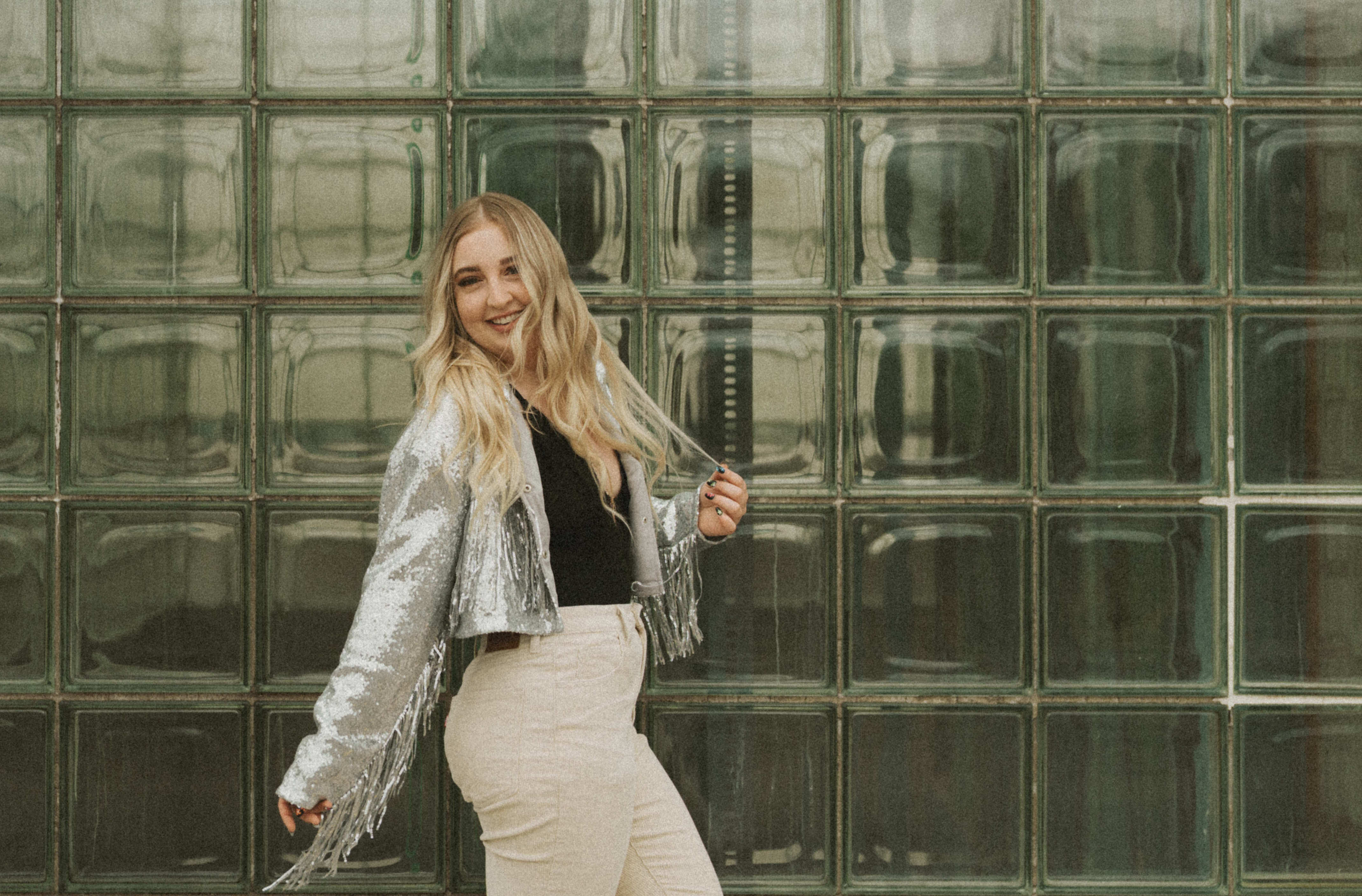 About Maggie
Having the privlege of crafting brands + websites that help other business owners attract their dream clients by embracing their personality is the greatest honor. I've designed for nearly 100 photographers over the last 7 years, and I've loved every second of it.
Designing these templates that allow you to bring your personality into every area of your client experience, and getting to doing it alongside such an incredible artist and friend of mine has been so much fun!
20 5-slide 1x1 Classic Carousel Templates
20 5-slide 4x5 Classic Carousel Templates
Tutorial Videos on how to customize
20 5-slide 1x1 "style of choice" Carousel Templates
20 5-slide 4x5 "style of choice" Carousel Templates
Tutorial videos on how to export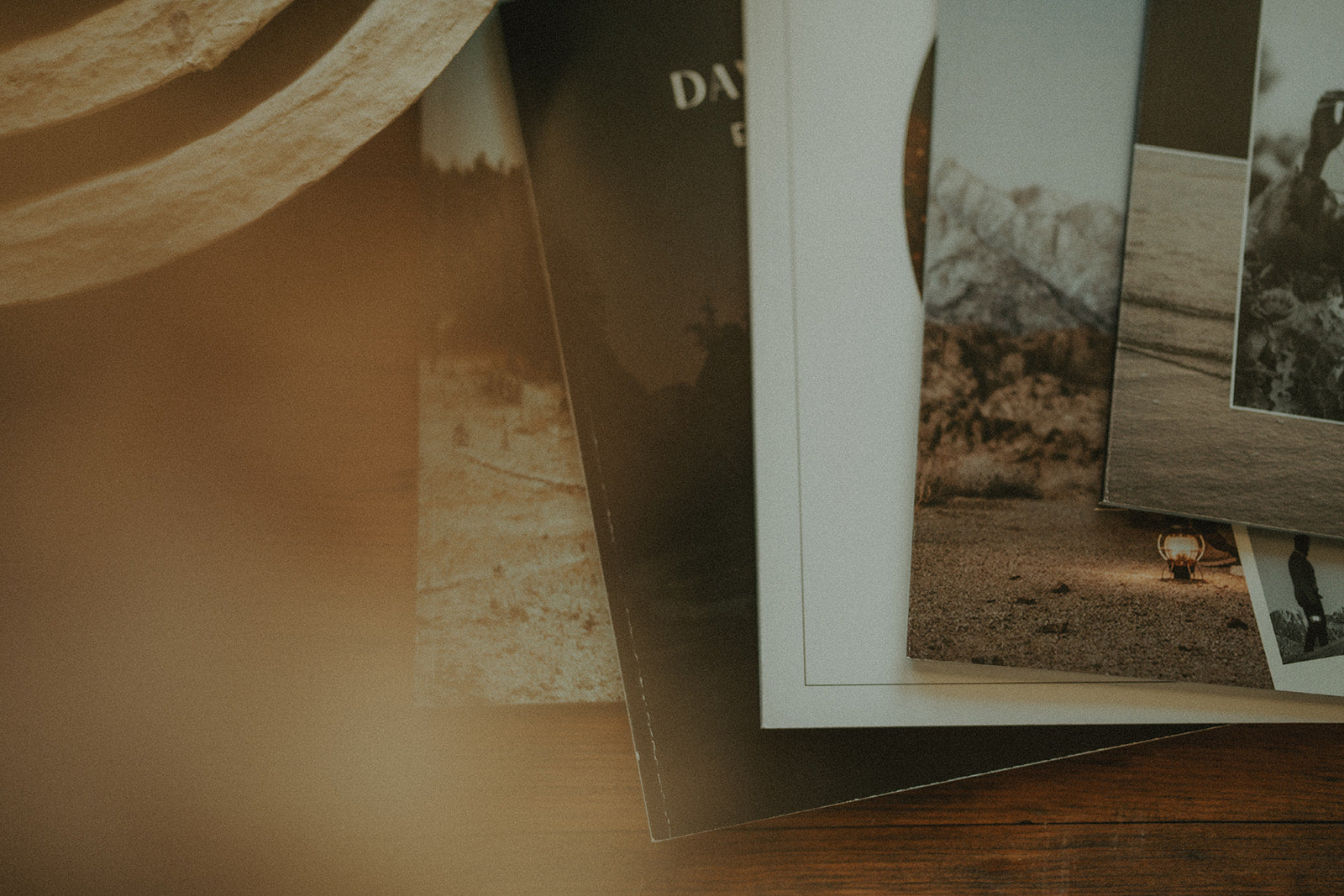 fully customizable
Canva Template
These carousels are COMPLETELY ready for you, to use as is, or to completely rebrand + customize it to your style.
lets create
the BEST Client Experience
Your clients want clear, concise, aestheticly pleasing information. They want to see the value in your work + these guides will help you achieve that level to help you book high-end clients.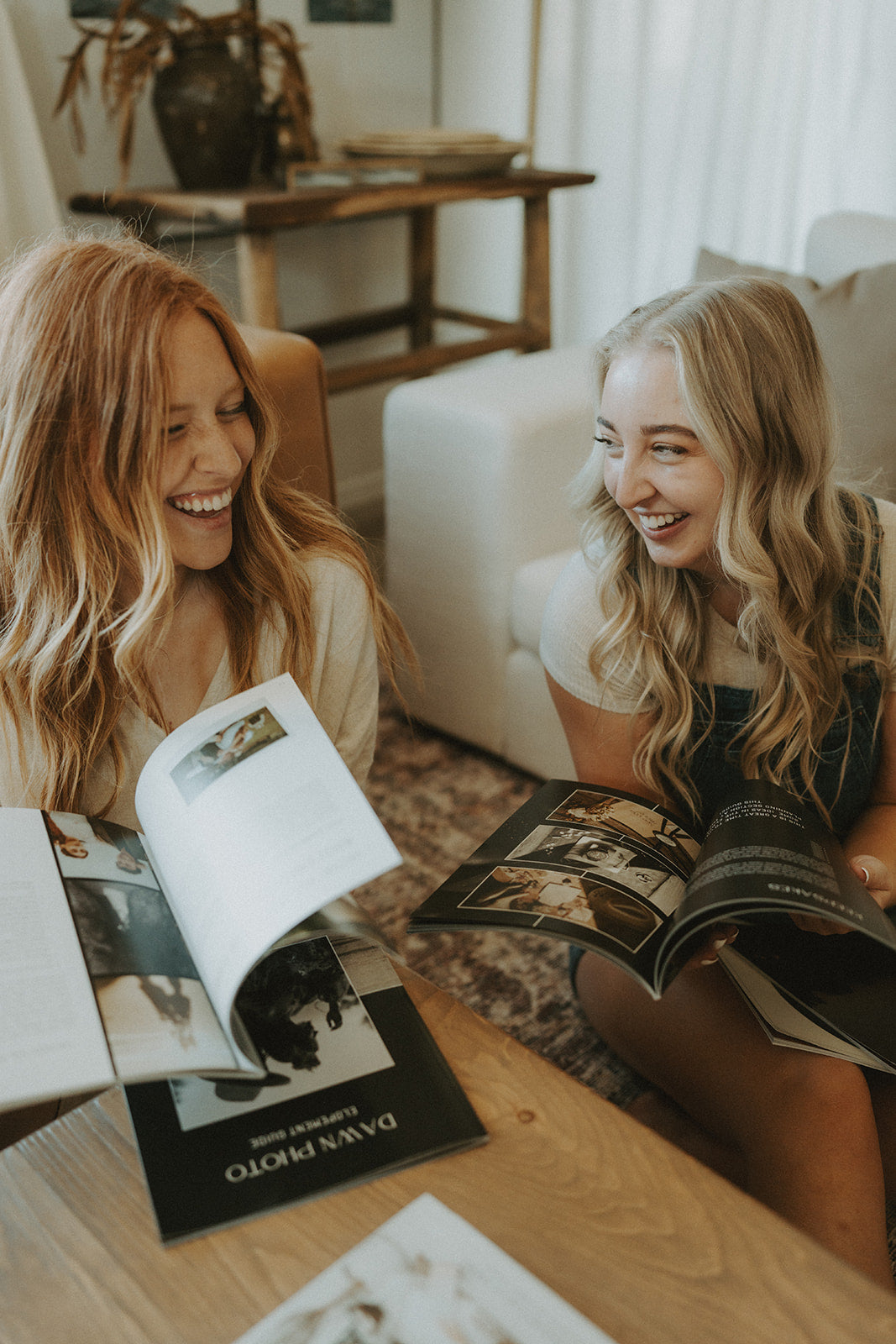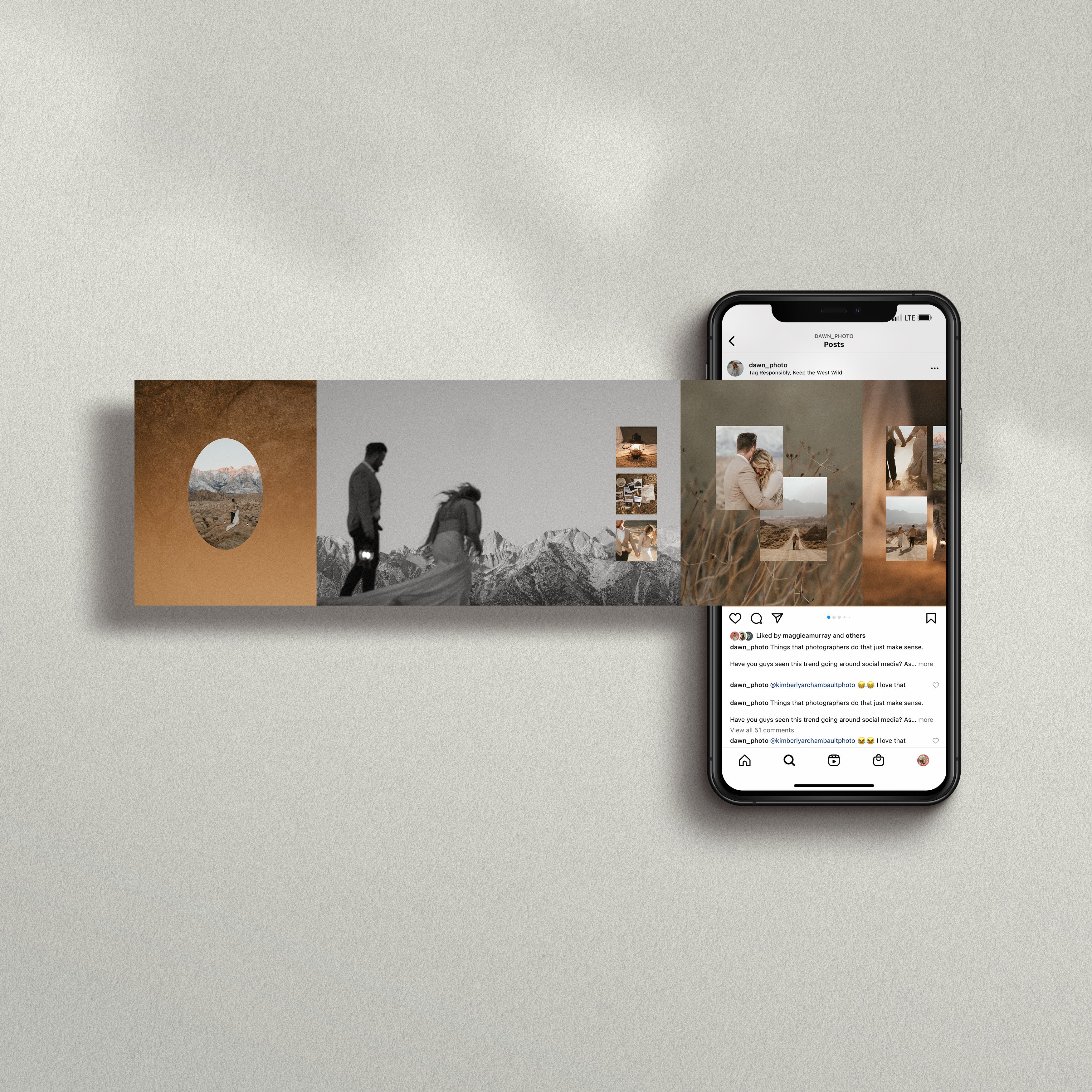 storytelling
Carousel Posts
Truly one of the most fun ways to create storytelling content for social media by layering photos in a cinematic way.